For several weeks each year my husband, Walter, and I open our 18th century Provençal farmhouse to a limited number of students who are eager to share our passion for the food, wine, and culture of one of France's most blessed regions. Our goal is not to teach just recipes or technique, but to help the select few master cuisine in a more profound way. Watching us, following our tips and recommendations, benefiting from my long years of study with France's best chefs, students tell us they gain a fluency and ease in the kitchen they've never had before.
Many of them also leave telling us that it has been one of the best weeks of their lives.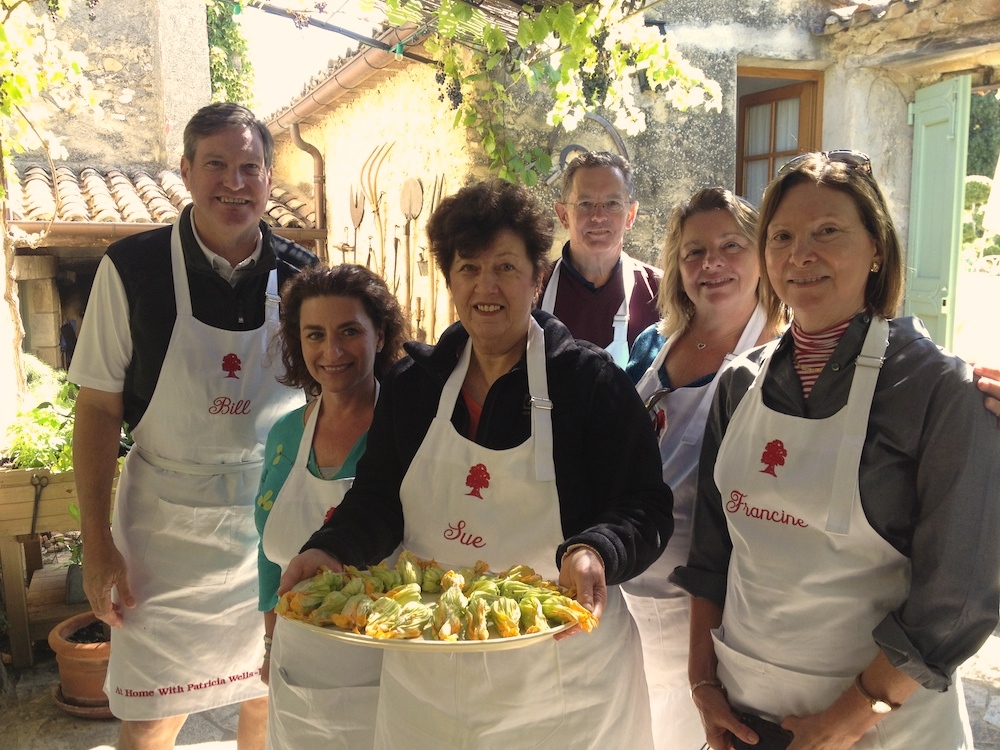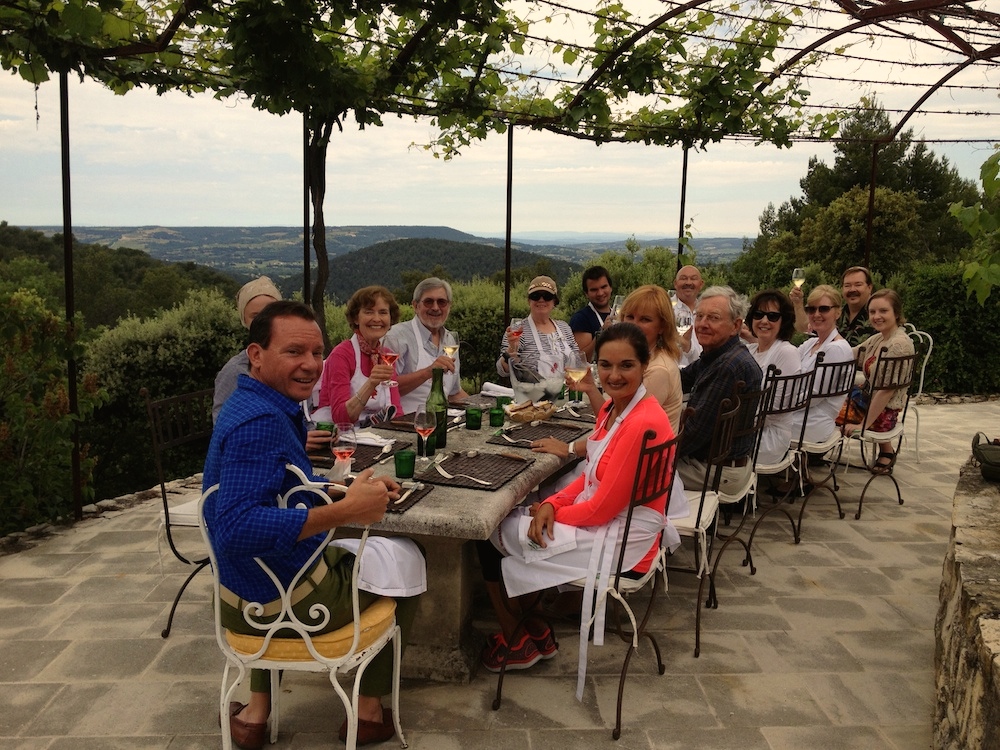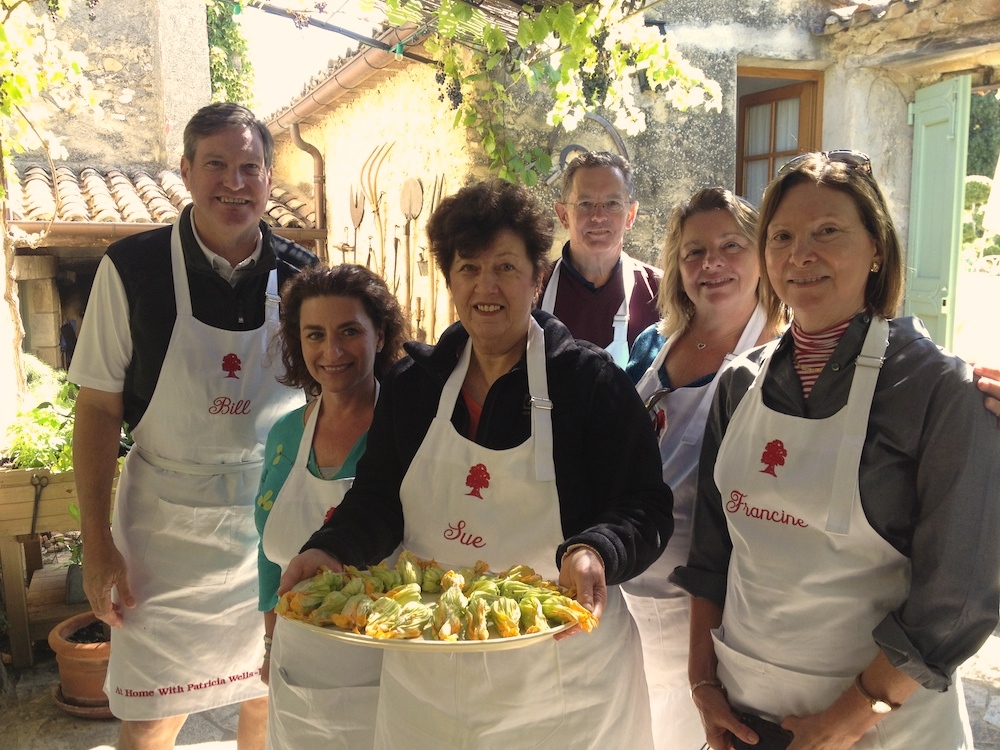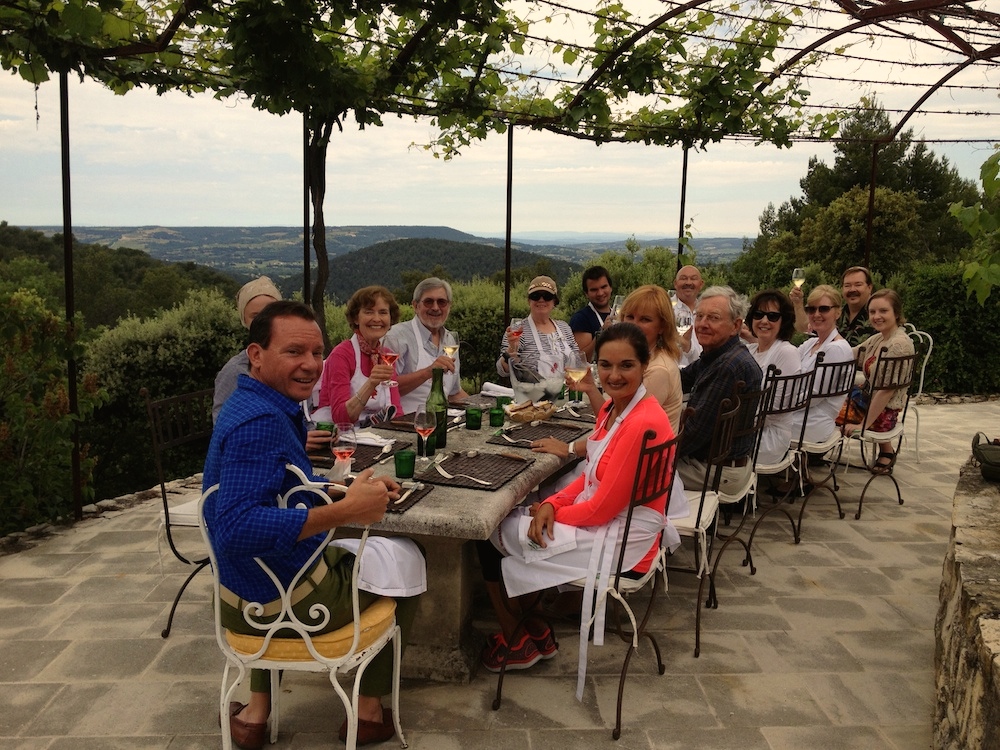 The students who come, whether novices in the kitchen or more experienced cooking enthusiasts, witness our passion for the food, wine and art de vivre of one of France's most storied regions. The primary materials are the herbs, salads, vegetables, fruit and preserves from our own organic garden, or those of local farmers. The olives we use and its rich herbaceous oil are from our own groves, and the fragrant organic honey comes from the Chanteduc hives. The house wine is Clos Chanteduc, a red Côtes-du-Rhône from the vineyards on the property.
The weeklong English language program includes hands-on cooking lessons in the two kitchens at Chanteduc, enhanced by visits to local markets, vineyards, shops, and my favorite restaurants.
Recipes are geared to the cooking enthusiast and cater to both the novice cook and those looking for more of a challenge in the kitchen. Each day's program offers something different: Daily menus are prepared with the freshest seasonal ingredients and are shared together around the farmhouse table, sometimes beneath the shady pergola with a stunning sunset view, others in the cozy stone and ochre farm dining room. Throughout the lessons we also discuss cooking techniques, menu planning, and kitchen habits, organization and design. We also offer an insider's guide to the regional production of olives, oil, and cheese, and tastings from the rich selection of local wines, including the famed Châteauneuf-du-Pape, the heady and varied Vacqueyras and Gigondas, as well as the huge variety of top quality Côtes-du-Rhône.
All instruction is in English. Participants are supplied with personalized embroidered aprons as well as detailed recipe booklets featuring some 50 cherished recipe, both for students to take back home with them.
The class is limited to 8 participants. The week begins with a welcome dinner on Sunday night and ends after lunch on Friday.
Each session includes:
SUNDAY EVENING: Welcome dinner – Patricia cooks for you!
MONDAY MORNING: Hands-on cooking class, followed by lunch
TUESDAY MORNING: Tour of Vaison's famous weekly market, followed by cooking class and lunch
WEDNESDAY MORNING: A private tasting of a selection of Rhône Valley wines followed by lunch at the best restaurant in the neighborhood
THURSDAY MORNING: Hands-on cooking class, followed by lunch
FRIDAY MORNING: An olive oil tasting, followed by hands-on cooking class and lunch
The fee for each student is $6,000. The fee includes all classes and tastings, a market tour, and transportation for our local wine and restaurant visit. The fee does not include airfares or transport to Chanteduc or lodging. (Information on housing as well as the specific week's schedule will be sent when students enroll. See Provence Hotels and Home Rentals for our list of places to stay in the region.)
We can accommodate two companions, (a spouse, a significant other, a friend, a relative who is traveling with the student). Each companion is invited to attend the Sunday dinner at Chanteduc, Wednesday wine tasting and restaurant lunch, and the Friday lunch at Chanteduc. This is a first-come, first-served option and the fee for each companion is $750.
See a week's sample schedule from a previous class.