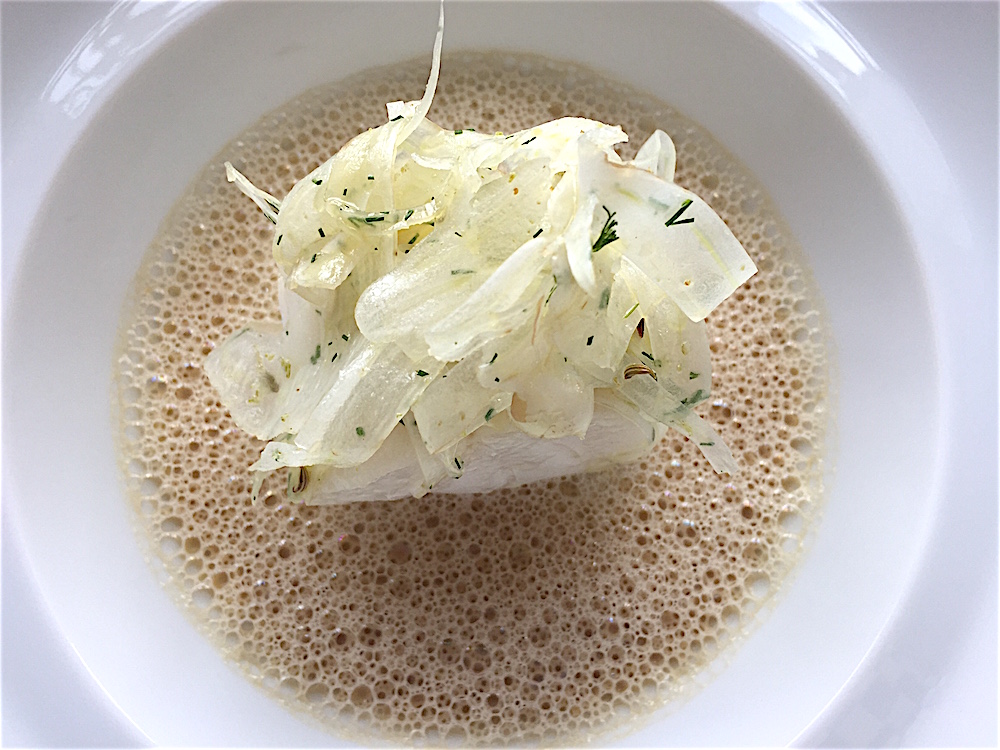 A new Eiffel Tower restaurant, a new Jules Verne, a new beginning. After months of closure, and an up and down epoch with chef Alain Ducasse, chef Frédéric Anton is now at the reins, with an abundance of confidence and energy.
The restaurant's redesign has dispensed with the dark, heavy, overburdened décor, replacing it with a refreshing and welcoming white, modern palette, embedded with careful details and reflections that allude to the landmark's powerful metal structure and design history. Refined and yet relaxed, the bare wooden tables are adorned with soothingly simple white linen napkins and all white porcelain.
Anton has demonstrated his talent and success as the current chef at the Michelin three-star Le Pre Catelan, earning him a respected position in the very top tier of chefs in France and elsewhere. Now the challenge is to be as good as he can be at Le Jules Verne and it's clear he's working hard at it.
Several meals at Le Jules Verne suggest he will succeed here too. Supported by a talented staff of chefs, waiters, and sommeliers trained at Le Pré Catelan and other renowned kitchens and dining rooms, Anton offers a seasonal menu that has all of his culinary trademarks: Gorgeous food, well-considered and full-flavored, that hits with a punch. He wisely keeps the menu crisp and modern, with no true à la carte menu, only fixed menus with a few variable options at lunchtime. Service is beyond exceptional, and the wine staff keeps your whims and glass filled whenever you desire. The dinner menu could not be more varied, including crab and cabbage, my dear langoustines, cod, farm-raised chicken, raspberries and chocolate. Servings are respectably and thankfully restrained. I most loved Anton's langoustine ravioli, lush and intense, rewarding, bathed in a Parmesan cream and, yes, truffle jelly.
Lunch is just as festive, and daylight offers an even better opportunity to appreciate Anton's eye-appealing creations, boosted by the all-white collection of porcelain tableware that creates a crisp canvas for his bright, seasonal dishes. I have decided to dedicate the next year to doing the best I can to recreate his alabastar offering of barely salted codfish set in a bed of fennel-infused shellfish broth, topped with a halo of crispy shredded fennel bulb, generously seasoned with herbs. With every mouthful he convinces me that when food is both breathtakingly beautiful and satisfying delicious, 50 plus 50 equals much more than 100!
Take for example his vibrant seabass carpaccio, sliced paper thin and brightly flavored with Madagascar vanilla, pink grapefruit, and Espelette pepper, offering a trio of flavor-packed ingredients to accompany the elegant fish. Roast duck is cooked oh so rare, sliced paper thin, and married with girolles mushrooms and capers, with an added necessary crunch of tiny, crispy pommes soufflées.
Getting to Le Jules Verne and the modern-day Eiffel Tower -- overloaded with an abundance of safety barriers and tourists -- is now a feat of its own. The restaurant has done its best to help diners arrive with ease. Jules Verne valets lead you from the taxi or parking area through the checkpoint and up to the tower's southern pillar. After the meal, guides help you to a taxi stand and hail a car for you.
Le Jules Verne | Second floor of the Tour Eiffel | Avenue Gustave Eiffel | Paris 7 (enter near the south pillar Avenue Gréard and Avenue Charles Floquet | +33 1 45 55 61 44 | Métro: Bir-Hakeim | Open daily | Lunch menus: €105 3-course à la carte menu (choice between 2 dishes for entrée, main and dessert), Monday to Friday only, €190 5-course tasting menu, €230 7-course tasting menu | Dinner menu: €230 7-course tasting menu | Reservations essential | Dresscode: T-shirts, shorts, or other sports clothing not accepted | NB Vegetarian and vegan diners welcome.